Though the terms Cantaloupes and Muskmelon are used interchangeably in the trade, they are not synonymous. Cantaloupes are a type of Muskmelon as are Honeydews, Honeyball, Persian, Casaba, Spanish and Santa Claus melons.
Cantaloupes are the relatively small, green skinned melons with a netted surface. The state of this netting is one indication of ripeness.
The netting of a ripe melon will be rounded up from the surface. The skin color between the netting will turn from a gray to dull green color in an immature melon to at least a deep uniform green, and in most varieties, an even yellow color when the melon is mature.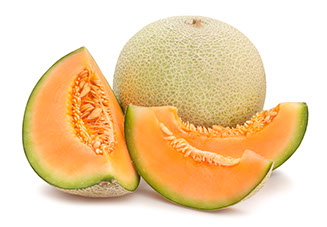 Group 4. Ethylene producer.
USDA recommended storage 36° to 41° F. (2.5° to 5.0° C.)
Approximate freezing point 29.9° F. (-1.2° C.)
To prevent deterioration after harvest, the melons should be promptly precooled and maintained at temperatures between 36° and 41° F. Some shippers request refrigeration settings near 32° F. for short periods of transit. These cooler temperatures should not be held longer than a few days as chilling injury may result.
Sources: United States Department Of Agriculture and the Agricultural Marketing Programs and Services.