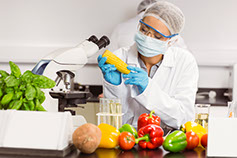 Century Farms and our strategic partners are passionately committed to growing and delivering the most wholesome, best-tasting and safest produce available from around the world. Our definition of quality produce starts with the highest possible standards of food safety and hygiene, and we have long been leaders in food safety initiatives, research, and innovation.
Food Safety is a serious matter at Century Farms International. All of our growers and post-harvest operations are run to rigorous safety standards, in many cases exceeding government and industry standards. Our food safety programs include Food Safety Programs developed under the guidelines of FDA/USDA, Codex Alimentarius, Good Agricultural Practices (GAP), Good Manufacturing Practices (GMP), HACCP and PRIMUS. We continuously track, test and benchmark our operations to ensure that our customers consistently get safe and great tasting produce at peak flavor.
We are on the leading edge of food safety technologies, working directly with government, academia and industry groups to ensure that we provided a safe food supply. We ensure our safety with third party audits and as a further safeguard, we have a state-of-the-art trace back system in place, far exceeding government standards for speed and effectiveness allowing us to track our product back to the date of harvest, growing location, and shipping destination.
Century Farms is committed to maintaining the strictest food safety standards established in the industry. In keeping with our desire to maintain the highest level of professionalism, Century Farms has also become affiliated with leading business organizations. In addition to being HACCP, Primus Labs, and Global G.A.P. certified, we are proud to be members of the Produce Blue Book and U.S. Chamber of Commerce.
Century Farms has been PACA licensed under the USDA since 2001. We are always striving to expand our knowledge and re-affirm our understanding of food safety practices and continue to seek out training and education in these areas.
Below are links to leading food safety institutions as well as a few of our affiliate websites. Visit us regularly to see our partnerships grow.