Acid and Sweet; Seeded and Seedless.
Acid and Seedless; Persian, Tahiti, Bears, Acid/ Seeded, West Indian, Mexican, Key.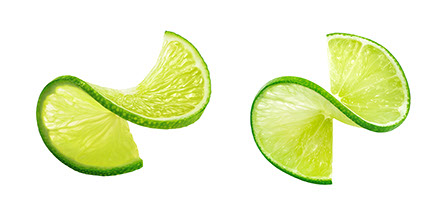 (The following pertains to U.S. No. 1 unless otherwise noted.)
For defects
(U.S. No. 1 and higher)
10% total including
5% serious including
1/2% decay (shipping point) 3% at destination
Size
Must be fairly uniform Juice Content Minimum 42%
Color
U.S. No. 1 requires 3/4 of surface to be of good green color
U.S. No. 2 requires 1/2 of surface to be of good green color
Remarks: Combination grade to be at least 60% U.S. No. 1.
Most defects must be serious to score against U.S. No. 2. Unhealed broken skin and stylar end breakdown are scored as serious.Means not more than 10% may vary more than 4/16 inch in diameter.
1) Maturity
2) Shape
3) Texture
4) Color
5) Scarring
6) Scale
7) Sunburn
8) Scab
9) Blanching
Condition Defects
1) Firmness
2) Yellowing
3) Skin Breakdown
4) Stylar End Breakdown
5) Anthracnose
6) Fusarium Sour Rot
7) Stem End Rot
8) Blue Mold & Green Mold Rot
(Maximum percentage for 5 day normal transit.)
15% total including 8% serious including 5% decay
Sources: United States Department Of Agriculture and the Agricultural Marketing Programs and Services.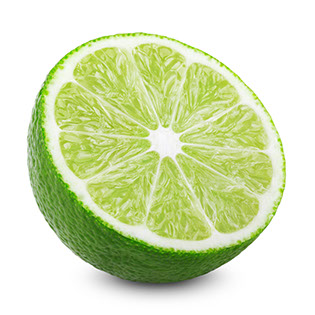 Serving Size 1 fruit (2" dia)
Amount Per Serving
Calories from Fat 1Calories 20
% Daily Values*
Total Fat 0.13g 0%
Saturated Fat 0.015g 0%
Polyunsaturated Fat 0.037g
Monounsaturated Fat 0.013g
Cholesterol 0mg 0%
Sodium 1mg 0%
Potassium 68mg
Total Carbohydrate 7.06g 2%
Dietary Fiber 1.9g 8%
Sugars 1.13g
Protein 0.47g
Vitamin A 1% Vitamin C 32%
Calcium 2% Iron 2%
* Percent Daily Values are based on a 2000 calorie diet. Your daily values may be higher or lower depending on your calorie needs.
Nutrition Values are based on USDA Nutrient Database SR18