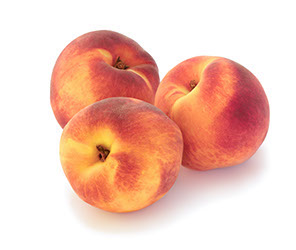 Group 1.
Ice contact not recommended. Ethylene producer.
Temperature
USDA recommended storage 32° to 34° F. (0° to 1.5° C.)
Approximate freezing point 30.4° F. (-0.9° C.)
Since peaches are transported at near freezing temperatures, freezing injury is sometimes en- countered. Symptoms of freezing injury are a water soaked, translucent appearance of the skin and/or flesh. If freezing injury is severe, the tissues will turn brown and become soft and mushy. As temperatures elevate, large quantities of juice will be given up from the injured tissue making the surrounding fruit sticky, and prone to infection by diseased organisms.